10 Films Online That Engage or Enrage
There is no shortage of social and political content for viewers to stream online. Here are some of the best new films released so far this year addressing social and political themes, in time for late-summer viewing.

Looking for a Trump-era All the President's Men.
Art is often a mirror, reflecting images of us both flattering and damning. With recent events such as the shockingly divisive presidential election, the violence in Charlottesville and the battle to save the environment, one could make the argument that the need for reflection has never been greater. Fortunately, there is no shortage of social and political content for viewers online. And while a classic like All the President's Men has not yet emerged for this generation (watch Alan Pakula's masterpiece again and be awed by its relevance today), there is plenty of compelling content available, especially in documentaries. Here are some of the best films released so far this year addressing social and political themes.
---
The time-lapse visuals of coral reefs bleaching over time due to the rise in ocean temperatures seen in Chasing Coral is at once an elegant and elegiac tribute to these largely overlooked sea denizens, but also one big F U to climate change deniers. When people watch the footage in the doc, some may weep, moved by the slow death of these uniquely glorious creatures. The filmmakers are on a mission to educate the world that 60 percent of the world's coral is under duress. Luckily among the filmmakers is Zack, an amazingly likeable coral geek who loves these living organisms so much that he has aquariums in his house that have no fish, only coral. It is the Zacks of the world who are ports of hope and, in this case, humor in a sea of gloom. Netflix.
Get Me Roger Stone
This documentary profiles one of the most influential figures in modern politics, yet few Americans have any idea who Stone is. He first came to public attention during the Watergate scandal as a young volunteer for Nixon. The doc credits him with using what he learned working for Tricky Dick to become the master of dirty tricks. A now-seasoned Stone, armed with his arsenal of shamelessness, helps orchestrate the election of Donald Trump. For political wonks, GMRS is worth watching, but be warned: Stone's smarmy personality and love for the camera might have you running to take a shower even before the credits end. Netflix.
Even though Jordan Peele has been delivering hilarious social satire for years on Comedy Central, nobody expected the creative and box office success of this horror allegory. Combining the social premise of Guess Who's Coming to Dinner with the milieu of Invasion of the Body Snatchers, Get Out's terror slowly unfolds, as the film's black protagonist arrives at his white girlfriend's parents' strange estate. Creepiness and horror ensue, but this really is an apt metaphor for the insidious, sinister way racism still plagues our collective house. $4.99 on Amazon Video.
Nobody Speak: Trials of the Free Press
There is a great documentary to be made about how money and power threatens the free press in this country. Brian Knappenberger's feature doc, largely a recap of the Hulk Hogan-Gawker case, is not it. It's true that an angry billionaire on a vendetta bankrolled Hogan's suit. But to promote Gawker, a purveyor of pabulum, as a poster child for the perils facing the modern press is a strange choice. It doesn't make the message less timely. It just removes the argument from the hallowed halls of the Fourth Estate and wages it in the dingy back alleys of tabloid sensationalism. As a result, it sullies a message way too important to handicap from the start. Netflix.
Okja
Director Bong Joon-Ho's genre-busting, dystopian tale succeeds by drawing on diverse influences to make a wholly unique film. It's as if Spielberg made a children's fable at Japan's legendary Studio Ghibli. Ultimately a preachy condemnation of the food industry, the film first treats viewers to a sparkling parable about a girl and her beast that is unlike anything you have ever seen. Only misstep is the script's penchant for excessive swearing, which comes across as a misguided substitute for emotion. Netflix.
Laura Poitras won the Oscar for Citizenfour, her documentary about Edward Snowden. Her latest profiles Julian Assange in what in some ways is a much messier but more robust piece. The founder of WikiLeaks comes across as part Svengali, part freedom fighter. There are lots of questions posed and fewer answers given, but most of it is pretty damn compelling. And we get to see Lady Gaga interview the cyber cipher wearing a witch costume. No . . . really. Showtime.
Rock and a Hard Place
At the start of this doc, Dwayne "The Rock" Johnson addresses 38 young convicts In a Miami-Dade County boot camp that allows felons facing sentences of five years to life the opportunity to gain their freedom. From there, we watch these young men go through the four-month program. But while it's compelling stuff, a sort of modern Scared Straight!, it's also long on humiliation and seemingly short on substantive lessons. And while the unique program apparently has a high success rate, one wonders when The Rock returns at program's end whether these methods have prepared these youngsters for the real world where it takes a lot more than yelling and abuse to sustain them. HBO Now and HBO Go.
Trumped: Inside the Greatest Political Upset of All Time
Drawing on thousands of hours of footage shot for the weekly Showtime documentary series The Circus: Inside the Greatest Political Show on Earth, this doc on the election of Donald Trump provides a robust picture of the Trump campaign that traveled the country captivating disaffected swaths of the nation's population. We all know how it ends. But just because we know the elephant in the room actually gets elected, it's still no less shocking to witness the horror in the belly of the beast as it unfolds. Watching the shocking mix of megalomania and ignorance prevail is both disquieting and disarming. Hulu.
Water and Power: A California Heist
"Gonna be a lot of irate citizens when they find out that they're paying for water they're not gonna get," says Jack Nicholson in Roman Polanski's Chinatown, still the best film made about the politics of water. That said, water isn't the sexiest of topics. Now comes Marina Zenovich (who coincidentally or not directed the 2008 doc Roman Polanski: Wanted and Desired). She does her best to spill out the deluge of information documenting the dealings that have tainted California's water politics for decades in as palatable a way as possible. Let's just say it's crystal clear that water is dirty business in the Golden State, a commodity used to empower the rich and make those who have a lot less thirsty for more. $2.99 on various streaming services
Another entry into the expanding genre of "Agri Prop" docs, Kip Andersen's documentary has garnered lots of attention for its shocking "truths" about processed meat and other evil foods. One of its primary "facts" states that eating processed meat every day increases one's chance of colorectal cancer by 18 percent. But here is how Andersen came to that figure: A person's lifetime risk of colorectal cancer is five percent, and eating processed meat every day appears to boost the absolute risk of cancer by one percentage point, to six percent, and that's 18 percent more than the standard five percent. That's the sort of fuzzy math that doesn't add up in this paean to veganism. And while some of its message to eat healthier is obviously laudatory, the meat of Andersen's doc ends up being mostly just a bunch of baloney. Netflix

'Skeleton Crew' Is a Play With a Moral Spine
Set in a Detroit automobile outfitting plant, Dominique Morisseau's drama grabs you from the start with its focus on blue-collar men and women, and their struggle for dignity and self-respect.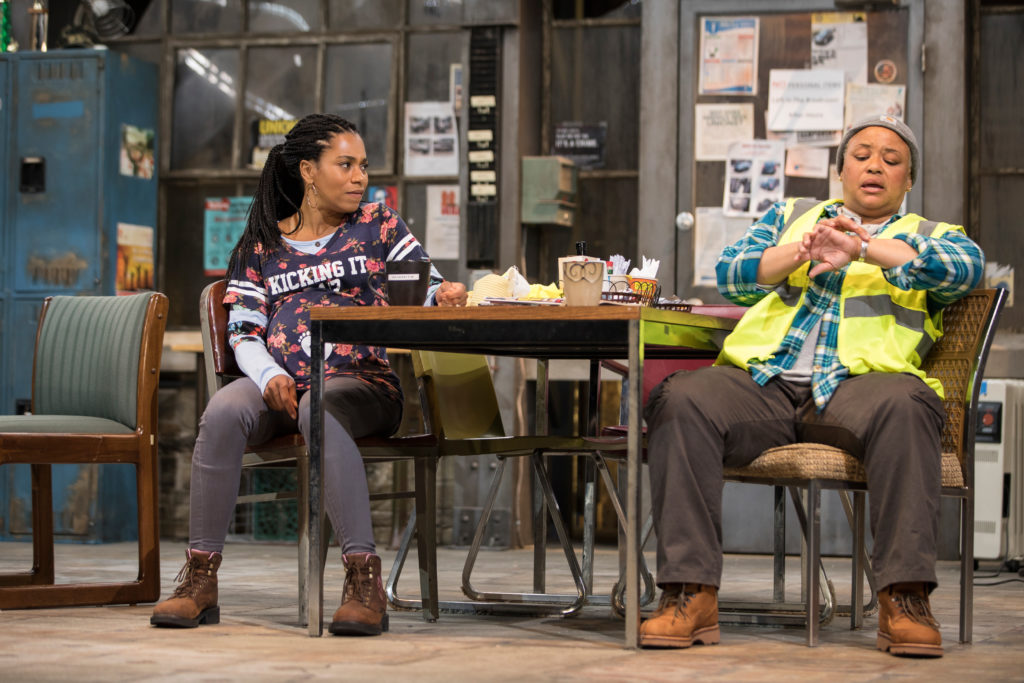 Working-class men and women of color are rarely front and center in today's media and, likewise, are presented all too occasionally on the American stage. So it's buoying to see that trend bucked in playwright Dominique Morisseau's percipient and well-crafted drama, Skeleton Crew. The play is the final installment in her Detroit  Project Trilogy; the first, Paradise Blue, is set in the 1940s amidst displacement caused by urban renewal and gentrification, while the second, Detroit '67, transpires on the eve of the 1967 Detroit riots sparked by a police action.
Directed by Patricia McGregor at Los Angeles' Geffen Playhouse, Skeleton Crew is a play with a moral spine. It takes place in 2008, when the shrinking U.S. auto industry is being further downsized. Morisseau's engaging quartet of characters — Faye (Caroline Stefanie Clay), Dez (Armari Cheatom), Shanita (Kelly McCreary) and Reggie (DB Woodside) – are employed at an automobile outfitting plant. Faye, Dez and Shanita are workers on the line while Reggie (who has a wife and kids, and has pulled himself together after a troubled youth) is their supervisor.
The first three customarily mingle in their break room (designer Rachel Myers' impressively cluttered, dingy and detailed set), trading the sort of familiar barbs and genuine concern for each other common among longtime co-workers. They also face off on philosophy: Upper-middle-aged Faye and the younger, pregnant Shanita take pride in their labor, while Dez, though a good worker, is a malcontent scornful of management and firm in the belief that everyone needs to watch out for himself. He's a thorn in Reggie's side, for while Reggie wants to be supportive of his workers, he must act at the behest of higher management. For his part, Dez resents Reggie's authority, and a palpable unease exists between them.
Besides this male matchup, we're made privy to Dez's attraction to Shanita, who mostly turns away his advances, but every now and then displays a hint of interest. Most poignant is Reggie's regard and affection for the lesbian Faye, which has roots in his boyhood when she loved, and lived, with his now-deceased mom.
These people's various predicaments intensify when rumors spread of the plant's shutdown — a disaster for all, but a particular calamity for the already near-broke Faye who, one year short of retirement, would lose her pension. The crisis forces each of these people to make a choice.
A sound piece of social realism, Skeleton Crew grabs you from the start in its focus on blue-collar men and women, and their struggle against odds for dignity and self-respect. Morisseau not only furnishes these characters a platform for their travails, she endows them with strong values, big hearts and the opportunity to choose between right and wrong.
Unfortunately, the performance I attended did not soar. Many exchanges lacked a fresh edge. The actors certainly had their characters down, but too often they appeared to be coasting on technique. (This seemed particularly true of Clay, who performed the role to great accolades in Washington, DC in 2017, also under McGregor's direction). Additionally, some of the stage movement was not entirely fluid; in confrontations, actors sometimes would just stand and face each other in an artificial way. And Cheatom's interpretation of Dez struck me as a bit overly churlish and depressive: I needed more glimpses of the intelligence and edge that would secretly attract the strong, self-directed Shanita.
The most compelling moments belong to Woodside, well-cast as a man trying his best in difficult circumstances to do the right thing.
---
Gil Cates Theater at the Geffen Playhouse, 10886 Le Conte Ave., Westwood Village; Tues.-Fri., 8 p.m.; Sat., 3 & 8 p.m. Sun., 2 & 7 p.m.; through July 8. (310) 208-5454 or www.geffenplayhouse.org